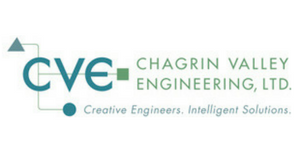 ABOUT THE CLIENT
Chagrin Valley Engineering (CVE) is one of the largest municipal engineering firms in the Cleveland area, focusing on civil, environmental, and various municipal engineering services. Their business covers both small and large-scale developments, always with a focus on the client experience and exceeding project goals.
THE CHALLENGES
As a new and upcoming firm, Chagrin Valley Engineering was referred to Open Systems of Cleveland. They needed an IT partner to help them build a technology foundation and IT philosophy that would allow for growth and expansion for years to come.
 As a large engineering firm, CVE runs many GIS systems requiring large amounts of storage and fast-performing desktops to render thousands of images, maps, and graphs. As many of CVE's projects exist within the public sector, compliance is a priority with strict storage and backup regulations in place. Chagrin Valley Engineering initially requested everything from servers and storage hardware to backup and recovery solutions.
HOW WE HELPED
Open Systems deployed a variety of cost-effective technologies to meet CVE's diverse (and growing) needs. Some of the specific deliverables included HP ProLiant servers, HP MSA storage, HP desktops, and 3rd party disk-to-disk recovery solutions to meet budget requirements. Open Systems helped CVE transition away from tape backup to a cloud backup solution for better visibility and compliance management. To meet wifi needs without compromising network security, Open Systems installed Cisco wireless routers complete with guest privileges. In addition, Open Systems helped CVE with Microsoft compliance, installing an Exchange server for email.
THE RESULTS
Beyond strictly delivering hardware and technology solutions, Open Systems provided additional value for CVE by providing proactive consulting services. In identifying security concerns surrounding guest internet access, Open Systems delivered far beyond the initial ask of simply deploying a Wifi network. In addition, by addressing potential vulnerabilities, strengthening adherence to compliance policies, and putting forth comprehensive resolution programs, Open Systems became ingrained into CVE's current and future business development strategy.
Chagrin Valley Engineering remains a valued client of Open Systems to this day, where they continue to renew technology needs and benefit from custom IT consulting services.